An essential guide to firepits for Gold Coasters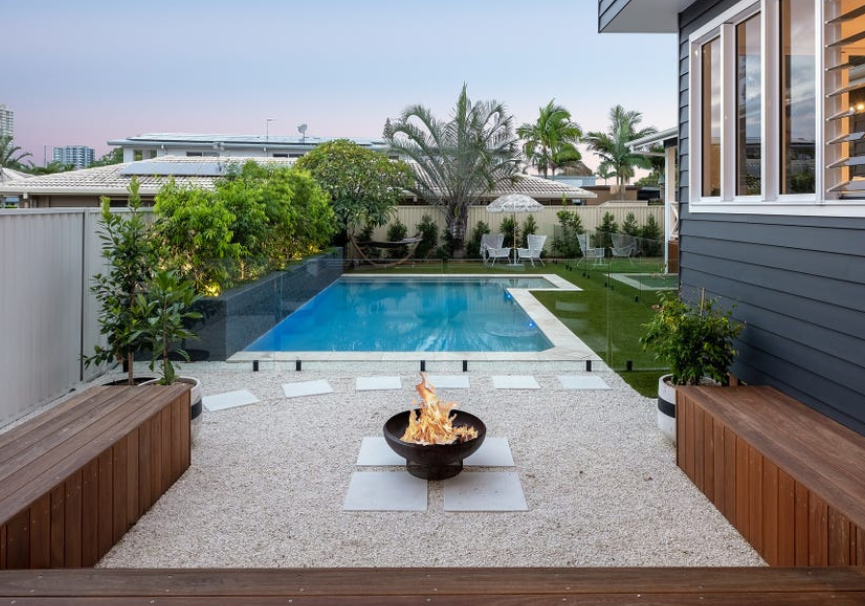 Have the lower temps made you want to curl up by a crackling fire with a bottle of red wine? We can't really blame you! To stoke the flames, we've compiled all the essential information for incorporating a campfire into your outdoor space…
The do's and don'ts 
Here on the Gold Coast you can have an outdoor fire pit in your backyard provided no local fire ban is in place and that the fire doesn't become an environmental nuisance through smoke or odour –  who has time to deal with neighbour complaints?
You can also not light a fire for any reason when there is a declared fire ban or fire emergency.
It's also important to think about what you'll be burning. While it may be tempting to throw your gardening debris onto the fire, burning greenery is not a good idea. Instead, use clean, dry wood, which can be found at most hardware stores and fuel stations. Gas, ethanol, and charcoal are also approved.
A fairly basic but really important requirement is to keep your firepit at least 2.5 metres away from any flammable material. Are you unsure what that encompasses? Consider your property, plants, and combustible materials (organic and inorganic). Finally, be aware of any fire bans in your area – a complete list of restricted areas may be found here.
Selecting the Most appropriate Firepit for Your Home
Before you start toasting marshmallows, consider which sort of campfire will best suit your outside space. Working with a big backyard? Built-in stone or brick fireplaces framed by gravel or pavers are a certain way to transform your outdoor space into an elegantly designed sanctuary.
Choose a fire bowl or a portable fire pit for courtyards and small yards that you can reposition to suit the occasion and generate additional room when needed.